assalamualaikum readers
penat sgt..baru balik dari johor.adik kepada ayah mertua meninggal dunia.so kami kena balik.bagi sokongan kat abah.dia sedih sgt.adik yg paling rapat ngan dia meninggal dunia.so hubby kena la bg moral support kat abah.
nik ambik ct 2 ari..baru jea balik ct dah kena ct balik.tp best.blh hilangkan stress keje.biasa la.kalau tak keje bosan.kalau dah keje stress lak..huhu
rasa bersalah lak tak pi keje 2 ari.mesti byk keje esk ni.tp nak buat mcm mana.family lg penting kan.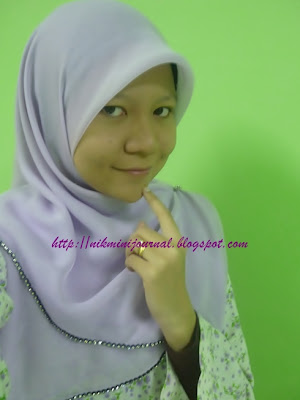 penat tp still blh tersenyum..hehe
datangnya kematian itu sebenarnya untuk menghadirkan insaf pada diri kita yang masih dikurnia nyawa.
Hidup kita belum tentu panjang hayatnya. Life is too short to be hatred.Semoga kita sentiasa di bawah lindungan-NYA, dikasihi-NYA, dikurniakan kesihatan untuk terus beribadat kepada-NYA
psstt...!!
hati sy ni rindu sgt kat family kat kg.